I am sleeping rough on 16 June 2010 as part of the CEO Sleepout Event hosted by Vinnies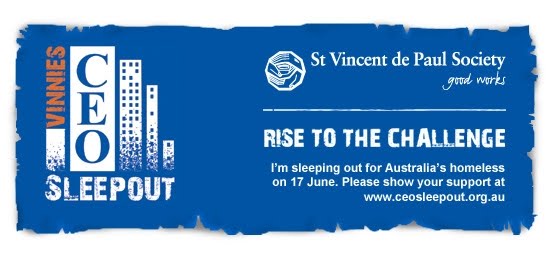 Dear Readers
As you are aware if you have been following my blog, we have moved to Terrace Rd.
However, I am always reminded of my old office at Wellington St. It has an external toilet. One day, I found a homeless person sleeping there. He would come in after dark and leave the toilet in the morning when the staff arrived. He must have been sleeping there for over 2 weeks until I had no choice but to remove him.
It was emotionally difficult removing the homeless person. I felt much sadness that in this day and age, there are homeless people in Perth which is supposed to be one of the richest state in Australia.
According to The St Vincent de Paul Society website, there are 14,000 homeless people in WA alone.
The Global Financial Crisis has not helped. In my legal practice, I have personally acted for clients who have had their homes repossessed. As the greedy banks continue to raise interest rates, many families are facing real financial challenges.
It is a difficult topic.
I recently read a newspaper article about the St Vincent De Paul CEO Sleepout Event.
I decided immediately to take part.
The event involves CEO's of companies raising funds by spending a night at the WACA with a sleeping bag and some cardboard paper, rain or not.
Please see my profile below and donate if you wish to help me help the homeless.
I look forward to updating my readers on the event.
The event is on  Thursday, 17 June 2010 and I am starting late. I have 10 days to raise as much funds as possible for the homeless. Please help me and the Vinnies.