Raising funds for the homeless
Raymond Tan, the owner of Tan and Tan Lawyers has signed in to spend the night in Perth as a homeless person on Thursday, 17 June 2010.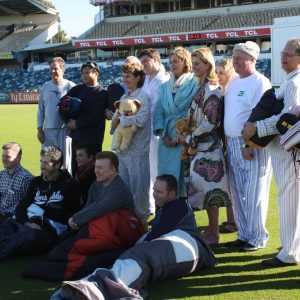 Raising funds for homeless in pyjamas. Lawyer to spend the night as a homeless person.[/caption]
The St Vincent de Paul Society is organising a Sleep Out for CEO's to raise funds and awareness regarding homelessness. The first such event took place in Sydney last year. It is now a national event with CEOs sleeping rough on the same night Australia wide.
The sleep out for Perth will be taking place at the WACA whether it rains or not. There is a 55% chance of rain according to weather reports. The average temperature for 17 June 2006 was -7 degrees.
There are currently 82 registered CEOs for the event in WA. All participants are only allowed a sleeping bag. They may be given some cardboard if it rains. No food or alcohol is allowed.
Raymond has been a lawyer in Perth for over 20 years. He is also the only Asian public notary in WA. He has a beautiful wife and 2 young sons who he claims have been too privileged. Raymond himself comes from a poor family where he was the 9th child in a family of ten. His working class parents were lucky enough to be afforded public housing in Singapore.
There are 14,000 persons who are homeless in WA. That is a shame considering WA is a boom state because of the mining industry. However, public housing in WA has failed to keep up with the rising demands.
According to the St Vincent De Paul Society, there were 1334 home repossessions in WA in 08/09 compared to 686 cases in 07/08.
The global financial crisis and continued rising interest rates have not helped many families who are struggling and at the tip of being homeless. The most common reasons for homelessness relate to domestic and family violence.
The common misconception is that most homeless persons are middle aged men. In fact 44% of homeless persons are woman and 38% of homeless persons are under 35 years of age.
Raymond hopes to raise at least $5000 in donations. He just registered as a participating CEO on 6 June 2010 and has already raised $1170 within 24 hrs.
Like Raymond, let us appreciate what we have in life and be thankful that each night we live in the warmth of a home with a roof over our head. In our comfort, spare a thought for many out there: men, women and children, whom due to no fault of theirs, end up cold, hungry and homeless.
Please help Raymond to help provide some comfort to the homeless of Perth by visiting
http://www.ceosleepout.org.au/location/ceoprofile.php?ceo=820
to make a donation.
Remember, all donations over $2 are tax deductible.
Please, help Raymond and the St Vincent de Paul Society to help the homeless of WA.