Helping the Homeless with St Vincent De Paul Society
CEO SLEEPOUT AND SLEEPING AS A HOMELESS PERSON
Does anyone know what the temperature will be like on the 16 June 2011 in Perth?
I believe it will probably be at least 5 degrees. I hope it does not rain, as being cold is not as bad as being wet.
In my crazy golfing days, I have often been cold and wet while playing in the rain.
However, I know sleeping in the rain is not a pleasant matter.
As my readers are aware, I am sleeping out again as a homeless person to raise funds for St Vincent De Paul Society.
They do a lot of good deeds.
This is some information from their website. Last year WA CEO's raised– $474,185.
The funds were used in the following manner:
Establishment of an education and training fund to assist Passages Resource Centre clients in gaining the necessary skills to obtain employment
Allocation of funds for the acquisition of smart-riders for Passages Resource Centre clients
Rental of 3 properties within the Swan Region as short term accommodation for homeless people including those at risk of becoming homeless
Purchase of a townhouse in Mandurah to be used for short term homeless accommodation in conjunction with the expansion of our Youth at Risk and homeless services in the region.
Funding of a study into homeless services and gaps in the provision of these across the metropolitan area
Ongoing accommodation and support of homeless people and those at risk of becoming homeless
I have helped with some legal pro bono work in sorting out some of their land contracts.
However, my heart goes to helping them at whatever level I can as they help people who are most in need.
So far I have , through the generosity of my clients and friends, raised about $10,000. As I said, the target I have set myself is $20,000 this year. I am already half way there.
" Whatever the mind can perceive, it can achieve."
to make a tax deductible donation.
Think about how warm your heart will be on a cold 16 June 2011 when you know you have done your part for the homeless.
ANNIVERSARY OF TAN AND TAN'S OPERATION AT 6/78 TERRACE RD, EAST PERTH
On another note, I just realised that we have been operating at the Terrace Rd office for a year since the 5th June 2011. It has been a great year settling into the new office. The staff and clients all enjoy the location and the convenience of off street parking. We had a staff lunch on Friday to celebrate.
As we did last year, lunch was held at the park in front of the office. We were happy to share lunch with Brian Nugewela and Tony Aristei, 2 leading counsels in Perth. Alison was able to join us with Brian.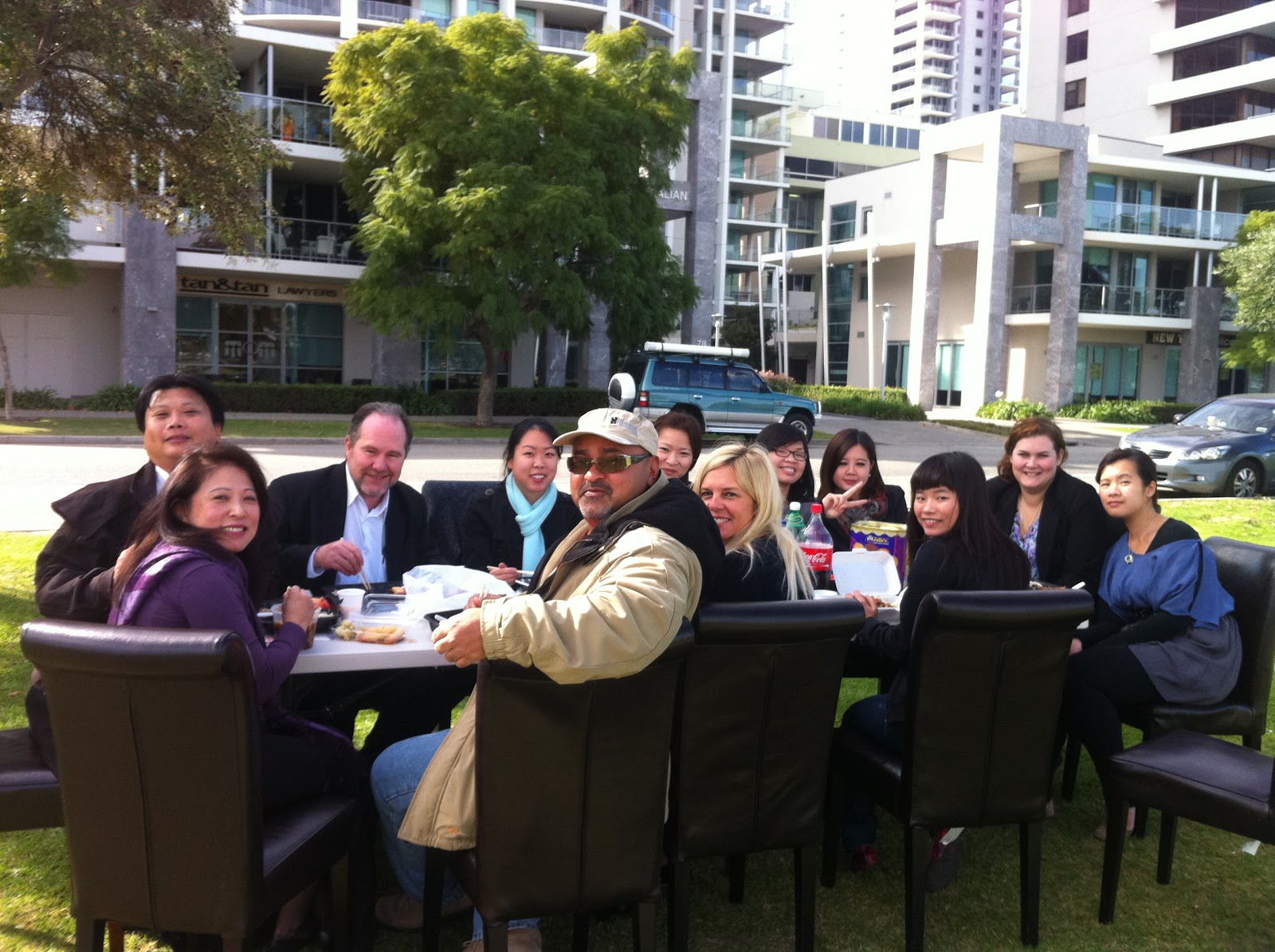 MORLEY OFFICE
Another announcement: I started operations at the  Morley branch office on 3rd June 2011. The address is Unit 2/8A Progress St, Morley. I am sharing offices with JJD Accountants. Things are just starting in our collaboration to bring legal and accounting services to our clients. Will keep you updated.
Good night for now and remember to donate to my sleepout.