Chinese New Year Celebrations
Gong Xi Fa Cai

That's the traditional greeting for the Chinese New Year celebrations. We are on to the 4th day of the Chinese New Year. Traditionally, the celebrations lasts for 15 days. In China, a majority of the workers return to their home villages after working away from home for the whole year. The news this year of all the China workers getting caught in bad weather conditions that have prevented them from getting transport home shows how lucky we are.

The Chinese New Year is a time for us to take stock of what we have. Lets count our family blessings and our business related blessings.
Every year, for good luck, I get lion dancers to perform at my office. Here's a picture of one of the lions this year with my boys and their friend Ethan.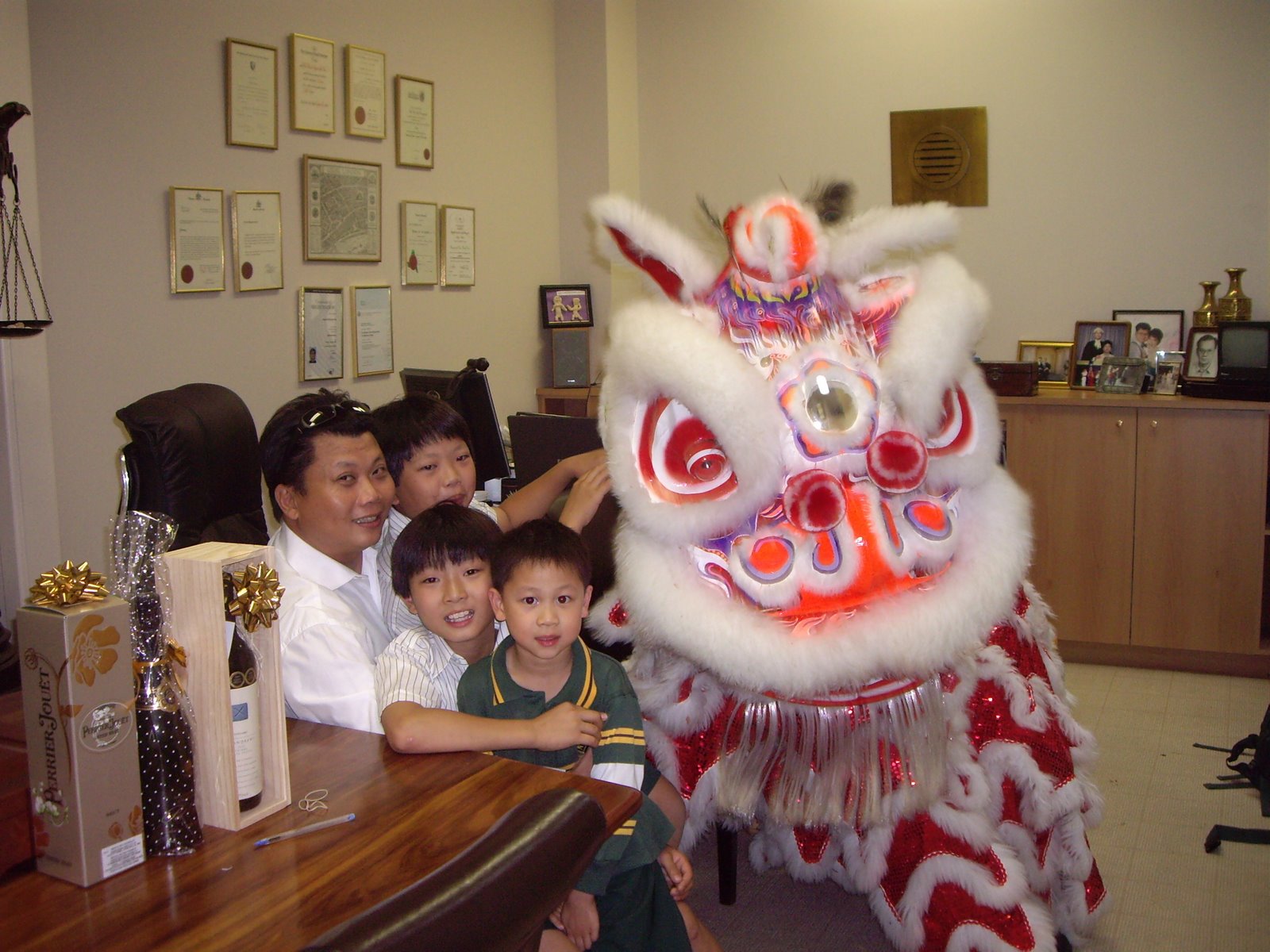 The new year is a good time to consider buying a business.

For those of you who are contemplating going into business or buying a business, I have the following 10 points to consider:

1. Never sign any offers to buy any business until you have received legal advice. The lawyer should help to draft your conditions of purchase that will protect you.
2. Always ensure there is a clause to allow your accountant to check the figures. That makes sure that the business income is as represented by the seller
3. Make a list of all assets that comes with the business. If the photocopier is supposed to be included, make sure it is listed in the schedule.
4. Ensure that you have a clause to allow you to opt out if the lease terms are not favourable. There is no point in buying a business if the lease for the premises is going to expire soon.
5. Ensure that any employees that are going to continue to work with you have all their long service and other leave benefits paid out.
6. Have a clause that allows you to check the business turnover just before you purchase the business.
7. If the business is a franchise, make sure that the contract is subject to your lawyer approving the franchise terms.
8. If you are financing the purchase make sure that you update the vendors regarding the finance approval.
9. Discuss with your accountant what business structure you are going to use. This should be done before you even make any offers.
10. Ensure that you are happy with your settlement date. Will everything be ready by then?
There are many other minor details which can make your purchase a breeze. When in doubt, speak to a lawyer.
Till my next blog. See you and enjoy the rest of the Chinese New Year.