Yet another family law issue?
Dear Readers
I have been preparing posters and brochures to market the practice. It is not surprising that family law seems to be coming up as a major part of the practice.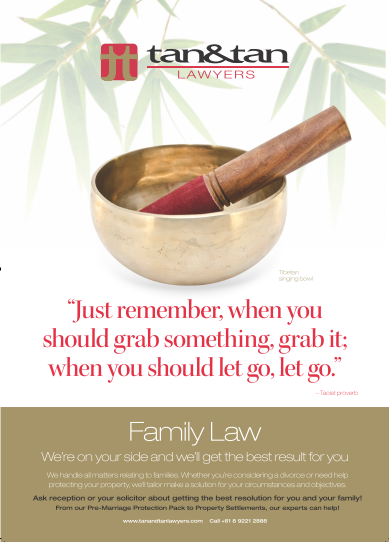 Separation is one of the most stressful periods in a married person's life. At Tan and Tan Lawyers we know that this is a time of high anxiety, uncertainty and pain. Couples often find it hard to reach sensible decisions about their property and children and as a result experience a great deal of conflict.
Our approach in helping family law clients is to explore all options for settlement and to resolve, where appropriate, the issues arising out of the breakdown of the relationship without the emotional and financial strain of protracted court proceedings.
We give our clients a clear and timely advice from the onset of our relationship so that our clients can understand all the relevant legal issues and make informed choices about the pathway to be followed and actions to be taken during the course of their matter.


This article is aimed at readers who wish to know more about the systems that we have developed for managing our clients' family law matters.


1) INITIAL CONSULTATION

Any family lawyer worth their salt will advise their clients only after an extensive and successfully completed fact finding mission. To streamline this process we have invested in the design of an advanced and extensive online questionnaire which our clients have an option to complete before their initial consultation. With all the required information on hand our lawyers are in a better position to discuss our client's objectives and give comprehensive advice about property and children matters at the initial consultation. 

2) LETTER OF ADVICE


Our initial advice is followed by a letter of advice which includes, where applicable, the following information:


A) Confirmation of our client's instructions – all details about the relationship and the children.


B) Information that will help our client understand the law as it provides for the living arrangements with children, entitlement for property settlement and issues relating to spousal maintenance and child support.


a. PROPERTY MATTERS – we explain the four step process adopted to determine our client's entitlements in the division of the matrimonial assets.

i. Step One – the first step obliges the parties to identify all of their property. We advise on the need and methods of obtaining valuation of certain property where there is a dispute to its value. We also advise on the need to seek further guidance in relation to tax implications which may result from the disposal of property.


ii. Step Two – this step requires an examination of the contributions made by both parties to the acquisition, conservation and improvement of the matrimonial property, both direct and indirect, and both financial and non-financial during three relevant periods: at the commencement of cohabitation, during the relationship and after separation.


Our advice about step two concludes with our assessment of our client's likely entitlement based on contributions alone.


iii. Step Three – depending on the future needs of the parties we advise about the likely adjustment in property division in favour of either of the parties. This step requires consideration of factors including age, health, income, care of children, commitments of the parties and a number of other factors.


iv. Step Four – the terms of any agreement or orders must be just and equitable. We advise about the practical effect of any proposed settlement.


b. APPLICATION BY OUR CLIENT'S PARTNER


i. Having regard to our client's instructions we advise on the likelihood of our client's partner making an application to the Court for property settlement. For example if the partner needs financial support and there has been no agreement yet the partner is likely to file an application seeking spousal maintenance and/or a lump sum payment.


ii. To reduce the likelihood of a court application by the partner we advise about the steps in putting forward a proposal to resolve the terms of the property settlement in line with our policy of actively promoting non-adversarial dispute resolution.

c. URGENT PROPERTY APPLICATIONS


i. Disposal of assets. Sometimes one of the parties may attempt to dispose of assets, without the approval of the other, before an agreement has been reached. If such risk exists (for example if the assets are owned in one of the parties' names) we advise on a course of action to protect the assets from dissipation.



In the second part of these family law series we will discuss children's matters and divorce proceedings.